The creation of every human being is done in with a highly sensitive spirit, a complicated mind, and an intricate body to have a close bond with the creator, the God, and with the other human beings around. This ethics is what God follows for all his human creations in the world. Many researchers have found that the complex and intricate design of the creator for all human beings strengthens the health principles found in the Holy Bible.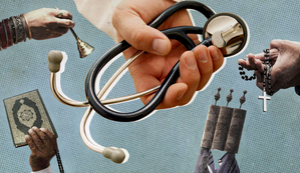 Religious leaders always claim a profound relation between spirituality and health. They believe that spiritual practices and prayers will have a great influence on the overall well-being of humans. Even though there is no proven relation between science and spirituality, bringing both of them together can show you great results. A non-religious person too can find peace of mind and good health with a positive attitude.
Spirituality
Spirituality can be considered to be practices that are determined by individual practices. That highly determines the thought structure that defines their personal values, their sacred thoughts, their perspective of hope, and their approach towards inner peace. Many people consider spirituality to be an intimate bond with God. It is a fact that several people find spirituality through religious practices. But there are also people who walk through the road of spirituality without the guidance of religion.
Community is the main benefit one gets if spirituality is practiced through religion. The feeling of loneliness can be avoided with this community and the people of the community are always available for the needs of their members. Several people also believe that collective prayers or hymns have a greater impact than doing them alone. But some other people like to do it alone without the views and practices of a specific religion.
Spiritual practices
Stress is one of the main issues in today's world and prolonged stressful life will have consequences in one's life. Along with the stress from workplaces and other social lives, the diagnosis of diseases and their treatment are also factors for stress in people. There are many spiritual practices that will help you to release the hormones that cause stress in humans. Prayer, communal singing, meditation, community service, etc, are just some of the examples. Spending time with family, friends, nature, art, music, etc, are also ideal choices. Some spiritual practices can give a meditative feeling and will help you to give attention to the moment you live. It can do anything simple like gardening, sewing, reading, etc. This practice will be great in providing inner peace.
A gratitude diary is also a wonderful method that will encourage you to write down the thoughts in your mind and the questions in your head. It is a bad choice to keep your questions and thoughts locked in your head. By speaking and writing about them, you can release so much stress and will feel lighter.
Studying the spiritual practices in the communities is also a good option. Interactions with spiritual leaders, chatting with your family and friends, asking questions, and giving answers, everything can be helpful. There are different groups across the world providing spiritual guidance and meditations for people to enhance their health and well-being.